According to the official news, Melos Studio conducted its first Melos token Public Sale at Tokensoft on March 1, 2022 at 2:00 pm UTC (10:00 pm BST). The token price was 0.05USD/Mlelos. The minimum subscription fee for each person was 500USD, and the cap was 1000USD, making the total fundraising scale 500,000USD–1% of all tokens supplied. The number of participants in the IDO peaked at over 10,000. As there were only limited tokens available for this IDO, the team had to draw lots. In the end, only 530 people won the lottery, making the sale 16 times oversubscribed. The winning rate was only 8%.
The IDO was too sought-after, resulting in a large number of users not holding Melos tokens. Therefore, we will open an IEO soon, which is the best new opportunity for users who love Melos. Please stay tuned to the latest official information released!
Melos token is the governance token of Melos Studio ecology and is currently listed on Ethereum. It is the basis to support the whole business model of Melos, and the total supply is 1 billion. In the future, Melos' WEB3 content creation will be based on Melos tokens.
The positioning of Melos.Studio
Melos is a Web3-based music collaboration and social platform that supports online music creation, intelligent generation, multi-party collaboration, multi-party simultaneous off-site and off-time NFT collaboration and trading. It has received investments from Dapper Labs, Binance Labs, NGC Ventures, Multichain Capital, Innovation, etc. In terms of ecological development, Melos is not only focused on the development of the music industry and opening up new paths but also provides a new way for the music industry to integrate, communicate and cooperate with other industries through technologies such as NFT.
Creating its Twitter account in as early as 2020, the team has been staying low-key and devoting themselves to the project development, rarely disclosing information about themselves or making claims about their activities. The first real tweet about Melos.Studio was published on July 9, 2021, and Onepager was disclosed the next day, at which point Melos was followed by only a small group of people. (Link
https://twitter.com/melos_studio/status/1413481022411329538)
Both Melos and other music NFT projects are using blockchain as the underlying technology to confirm asset rights with NFT, while allowing NFT to complete value realization through the trading market. But Melos boasts several distinct advantages. According to Melos' Onepager, its core business model makes breakthroughs in the music industry. It regards music NFTs as the ecological goal of the content creation economy and aims to eventually complete building a music utopia for worldwide music lovers. In the countdown section on the official website, it mentions that all music creators are welcome to create, share and profit freely in Melos' music utopia. (Link: https://twitter.com/melos_studio/status/1415146634598502401)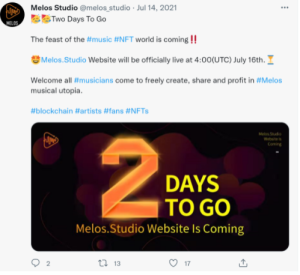 On July 16 2021, Melos' official website was launched for the first time. The team made a post on Twitter and attraced the first wave of user traffic. The post received 1000 comments, 2300 retweets and 1800 likes, suggesting the market's recognition of Melos.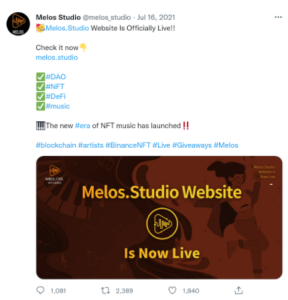 Since then, Melos has become the fastest growing music NFT projects, overpassing its rivals.
As of now, it has 113,000 Twitter followers, second only to the current leading project Audius which boasts 132,000 users, an achievement that is made after two-year efforts. In comparison, it took Melos only six months to catch up. The fact that as many as 6600 people attended the public sale on Tokensoft testified the value of Melos. With its solid economic and technical underlier, Melos will live up to users' expectations after the sale.
Melos' ecological goal
The completion of the public sale also signifies that Melos will move to the second phase of ecological expansion. Since Melos launched its marketing activities, it has been committed to using NFT as a channel to explore the combination of traditional music with blockchain applications. It not only proactively engages itself in promoting international cooperation of artists, but also presents itself in media, social organizations, projects and other cooperation methods to expand its ecological boundaries.
Melos' ultimate goal is to build a music utopia for all music lovers where they can freely create, share and profit. In this way, all of them can seek better creative inspiration and extra income.
Melos, through half a year's efforts and cooperation with many other parties, boasts the most artist fans among all music NFT projects. With the exposure to tens of millions of fans, there is still much value to be discovered in Melos.
After Melos built the venue in CryptoVoxels, it has hosted several online events, including a memorial concert for David Bowie. The Melos venue saw the most traffick in the month the event was completed, and even now it is ranked fourth.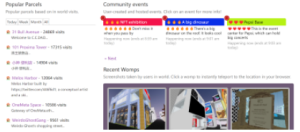 On February 12 2022, Melos sponsored and provided technical support for UCA's "Unreliable" online Chinese New Year Celebration and the North American Chinese Original Talent Show Contest. Music from original music creators who won the prize were minted into music NFT by Melos.
In terms of project ecology, Melos is actively cooperating with Gamefi, Galaxy, wallets, exchanges, traditional media and blockchain media to enrich the depth and width of Melos ecology.
The value potential of Melos tokens
The leading music project Audius currently has a circulating market cap of $500 million and the total market cap of about $900 million. But it faces the problem of very limited application scenarios and value appreciation. Supposing the MelosPUBLIC SALE token is priced at 0.05U, Melos' full market cap will be as high as $50 million, suggesting Melos has the potential of 16 times value growth than Audius.
The initial release volume of Melos tokens is very high, but the public sale only accounts for 1.5% (15 million). The initial circulation market cap is only $750,000, which is heavily undervalued compared to the current circulation market cap of Audius. We can expect to see drastic value growth.
The Melos token has a similar fan sponsorship application scenario as Audius. That is, users can donate tokens to their favorite artists to get music NFT or other privileges, or even share the revenue generated from music NFT releases. It is also possible that users start a brand new band in the community through Melos token fundraising.
In addition to this, Melos tokens are the foundation that supports the entire Melos business model. In the future, Melos' WEB3 content creation economy will revolve around Melos Tokens, including filling the market niche of UGCfi. By endowing NFTs with financial attributes, Melos Tokens will make it possible to launch projects merely through NFTs.
In terms of ecological development, Melos not only focuses on the development of the music industry and the exploration of new paths, but also provides a new way for the music industry to integrate, communicate and cooperate with other industries through NFT and other technologies. In this process, Melos Token will take the most important responsibility and become one of the most important players.
Summary
Even being compared to the current headline projects, Melos still boasts a short-term earning power as much as 16 times. When situating this potential in the context of farming, Melos token can provide several times more base revenue. Such high returns, combined with the commercial value enabled by Melos ecological growth, guarantee that Melos is bound to overtake Audius and overcome the bottleneck of market cap. It is just a matter of time.
With the launch of Melos tokens, it can be expected that NFT hash farming and Mining will also be opened soon. By then, those who missed the public sale can also participate in the ecological development of Melos.